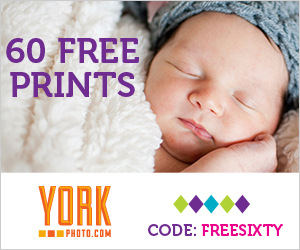 I am really glad there's a York Photo Promo going on right now!  When you use the coupon code FREESIXTY, you can get – yup, you guessed it – 60 FREE prints!!  Whew! I probably have 3 memory cards FULL of pictures from outings with family & friends, silly pictures with my kiddos and then just things I saw and loved, such as a rainbow, fall foliage, etc.   This will be so helpful in getting my favorite photos printed out.  If you've never ordered from York Photo, you are sure to be pleased with their quality! Don't wait to get your FREE prints! 

Like this post?
I love to read your comments! Be sure to share with your friends too!!
This post may contain affiliate or referral links.
By clicking through on these offers, you are helping to support this site.
Thank you ~ Jenn
 Topic: FREE Prints