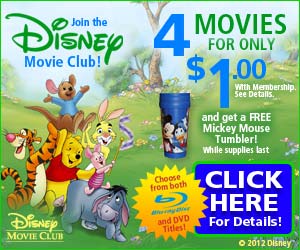 This is my favorite club I belong to for my children! Four movies for $1 AND a FREE Mickey Mouse Tumbler!  Get the movies now and hang on to them for Christmas!  What a HUGE money & time saver!!
You will enter a commitment to purchase 5 other movies at full price – However, you have 2 years to do so from the time you join.  Get these movies now for a $1 then when tax time comes around, grab those 5 other movies and hang on to those for Easter or even the following Christmas.  That is how I do it & even though it may be a chunk of money at once, it sure does save time & even money later.
What's your favorite Disney movie??  Favorites in my house include Cinderella, Tangled, Toy Story (1,2 and 3), Finding Nemo and Lady & the Tramp.