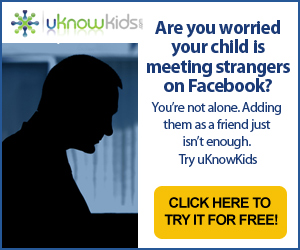 The world can be a scary place  ~ and as a parent, I want to protect my children from any and everything potentially dangerous.  However, that is not always possible without some help.  That help might be from a spouse, partner, grandparent, friend, aunt, uncle, etc…
uKnowKids program can also help.  Read below for more information on this FREE program.
uKnowKids lets you see a birds eye view of your child's social network and mobile phone activity so you can keep them safe from bullies, bad guys and dangers online. With uKnowKids, you can monitor your child's social network usage including Facebook, Twitter, Instagram, MySpace and activity made from a mobile phone or iPod. Our online tool can also monitor Android and Blackberry text messages and location data. Based upon your settings, uKnowKids has the functionality to send you notifications when your child is involved in a potentially risky situation. This puts you in a position to be educated and proactive without having to sift through the massive amounts of online data your child is producing. Access to available features depends on the uKnowKids subscription that you choose.
With a free Essential account, you will have the ability to monitor one child's Facebook profile and messages and last known location that they checked into on a mobile phone. A Premier account for one child at $9.95/month with a 30 day free trial or $99.95 annually, will allow you to monitor one child's full social networking accounts–Facebook, Twitter, MySpace, and Instagram–including messages, images, status updates, tagged images and more. You will also be able to monitor full exchange of SMS messages, GPS location, contacts and more for Android, Blackberry and Windows phones as well as use our Family Map to locate your child. You can add multiple children to a Premier account for just $19.95/month with a free 30 day trial or $199.95 annually. Our Premier+ account includes all of the above monitoring plus live customer support and a personal support help desk at $9.95/month and a one time fee of $49.99.  For a full list of plans, features and prices, click here.
More than a parental control software, uKnowKids™ provides access to features that will keep your children safe on the internet. uKnowKids™ is not spyware and will not be hidden from your child. We believe in positive family communication based on trust and transparency. We encourage you to sit down with your child and have a discussion and an agreement on exactly what will be monitored. Kids that know they are being supervised tend to make safer, smarter choices and develop healthier habits.

This post may contain affiliate or referral links. By clicking through on these offers, you are helping to support this site. Thank you, Jenn